HOME >> Nosework
Nosework classes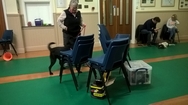 enlarge image
Activities class
Wednesday the 14th of July
Nosework

An hour of searching for a specific scent for you and your dog.
Harness your dog's incredible sense of smell into a fun activity you can do together.
In class we will pair a scent with your dog's favourite reward.
Examples of searches depending on experience are a box search, a letter search, searching amongst cones and items,vehicle search and outside searches for more experienced dogs.

7pm - 8pm at Kingsley village hall.

You will need lots of small pieces of food for a food reward, a silent toy, a water bowl, a clicker if you use one and a bed/mat.

Only four places so book early. £10.00 a session.