Churnet Valley dog training in Staffordshire
Churnet Valley Dog Training
Liver cake recipe
dogs love this it make a great high value reward for dog training.
250 gms of liver ox, lamb, pig, or chicken
8 tablespoons of plain flour
8 tablespoons of milk
1 egg
put the liver into a food processor and mix to almost a liquid
add the other ingredients and mix together
poor into a microwaveable container or oven proof container lightly greased
microwave for 10-12 minutes
or
bake in a medium oven for about 30 minutes
times will vary depending on the size of your container.
You can use a tin of tuna fish or pilchards instead of the liver.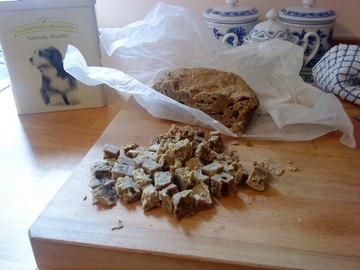 ps cats like it too!!!