KCAI
Choosing a dog training class can be a minefield, it needs to be right for you and your dog. You need an instructor who can teach you and progress you and your dog using kind methods of training in a suitable learning environment. You need an instructor who cares about getting it right for you and your dog.
You want to leave at the end of class with a good feeling and looking forward to next week.
KCAI stands for Kennel Club Accredited Instructor. It is a scheme run by the Kennel Club to ensure good quality training instructors who really know how to teach classes properly and safely are running classes for the dog owning public.
A KCAI has gone through a series of robust testing including both theory and practical assessment. To gain the high standard needed to pass we have spent hours studying and attending courses.
There are four stages of assessment and then the board will consider the application.
We have experience, applicants need at least five years experience before applying for accreditation.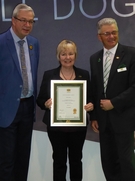 We have signed a code of conduct and regulations we have to abide by.

KCAI has achieved accreditation from City and Guilds, the benchmark of quality.
For more information about the scheme or if you are looking to be a dog trainer or behaviorist follow this link...
If you are looking for dog training look for this logo...