Training classes for Puppies
All welcome to join my small friendly classes for young puppies and older progressing puppies.
Puppy classes for puppies are held at Kingsley village hall, Kingsley ST10 2AF.
Training a dog starts when they are young puppies and continues for the adult dogs life.
Many new puppy owners benefit hugely from a one to one home visit before starting classes while the puppy is still very young. You can start the puppy with coming back when called, walking beside you on lead, leave, handling and more and make good habits before unwanted behaviour starts. Contact me for more information.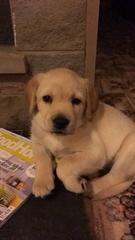 Many reports and case history's support the value of early training and socialization to help prevent serious behavioural problems in adult dogs. Problems such as fearfulness, aggression, excessive barking and separation anxiety. <!?xml:namespace prefix = o ns = "urn:schemas-microsoft-com:office:office" />
It is very important to start training and socializing puppies when they are young.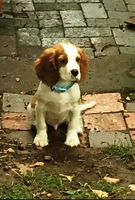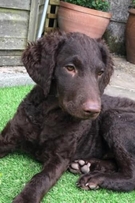 Puppy classes are the best start to give a puppy.
Socialization in a different environment is a big advantage.
Advice on prevention of behaviour problems
Gives support to owners of puppies.
Chance to spot potential problems.
Guidance on what to expect during the puppies behaviour development stages.
Gives a good Introduction to training and sows the seeds for future learning.
Puppies can come to class as soon as they are vaccinated and it is safe to do so.
I run the Kennel club Good Citizen Dog Scheme Puppy Foundation Course. It gives your puppy a really good start.

In class you will learn how to teach your puppy to -

Play

- I will show you games to play with your puppy
Allow you to handle him/her

Leave

Sit nicely to greet a person

Go to bed

prevent jumping up

Stop

We also talk about topics such as, chewing, teething and biting, how to teach Settle- home alone, safety around children, exercise for the puppy up to 12 months, and house training, feeding.

We talk about how to safely and thoroughly socialize your puppy so he/she grows up to be a confident and well mannered dog.
I will talk to you about graduating to the next level after this course.
Karen KCAI (cd) IABTC certificate Puppy Parties and Teaching Puppy Classes.
Get in touch with me before booking to make sure you are booked into the right class for your puppy.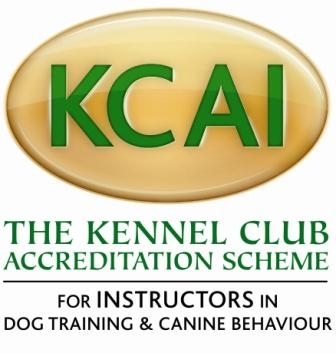 Clients who had a one to one session with me before coming to puppy class wrote this review -
We found the session extremely useful & were surprised how much we were able to get through.
Thank you for taking the trouble to write up such comprehensive notes which we are sure we will be able to follow perfectly.
We are all looking forward to the puppy classes at the end of the month but in the meantime we will all try to practise your instructions
Thanks also for the information on Oscars.
Kind regards,
Sheelagh & Mike