Clicker and Target Training
Clicker and target training is a wonderful way to train your dog. It's all positive and you can see results quickly if done properly.
It's great for all training, especially dog to teach tricks and novel behaviour and for behavioural training.
Good for giving your dog some mental stimulation.
Monthly classes or you have a one to one to learn this skill or get a group of friends together.
As an IABTC C&T level four instructor I can now offer IABTC Clicker and Target training awards at three levels. They guide you through the process of learning how to effectively use the clicker, shape simple behaviours, free shaping, put behaviours under que, extend the duration of behaviours, using target sticks and other objects for targeting. Going on to more complex behaviours, chaining and back chaining, changing ques, transfering targets, fading ques, effective select and use rewards. Then developing more complex chains on one que, free shaping more complex behaviours chains.
Full description of the awards are on this link, the hours training you need to attend will be done in my classes.
All the levels are a gradual progress at your own pace, you learn in class and go home to practice, when you have something I will look at it and pass it or give guidance on it. There is no test.
The certificates are lovely and something to be proud of as proof of your hard work and achievement.
Doing the levels will improve your dog in other ways. We have found that clicker training has improved dogs focus and control in everyday life and improved confident.
IABTC stands for International Animal Behaviour and Training Center run by Angela White
Fellow of KCAI, CDA, BehA, ObA and founder member of KCAI.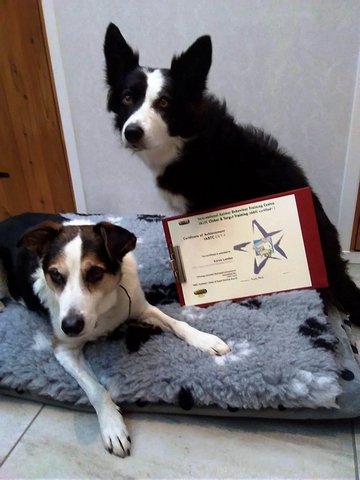 Every other Wednesday at 7 pm at Kingsley Village Hall, ST10 2AE.
Pay here or in class in advance please.