Churnet Valley Dog Training classes in Staffordshire.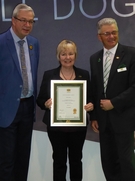 Attending a well run dog training class by an experienced and well qualified instructor using positive kind and fair methods of training is something every dog owner should be doing at some point during the dogs life. Mostly it is when the dog is young but older and rescue dogs can come too. It is the best way forward with a dog, it is the responsible thing to do for you, your dog and other people around you. Your dog will be better behaved, safer and happier for it.
"Classes cancelled today 28/11/2021 because of the weather, its not fit to travel."
Classes of practical training exercises for everyday life and how to apply them to outside class.
Dog training classes at Kingsley Village Hall ST10 2AE
Wednesdays: 6pm Young puppy training classes including the Kennel Club Good Citizen Puppy Foundation Scheme. Full

Wednesdays: One place left for the course starting on the 3rd of November. Full

Saturdays: 10 am puppy training classes including the Kennel club puppy foundation scheme. Full

Saturdays: 11am Kennel Club Good Citizen Dog Scheme Bronze and silver. Full
Dog Training classes at Butterton Village Hall, St13 7ST
Sundays: 10am pay as you go class doing basic training for everyday life suitable for beginners and younger dogs.

Sundays: 11am pay as you go doing basic training, suitable for more experienced dogs and handlers.
The Sunday classes are held outside with plenty of natural distractions at a distance which really help the dog become accustomed to them and learn to listen to their handler with the distraction in the back
ground.
They are great for people who can not commit to a course every week.
Social distancing and other government guidelines for covid19 will be adhered to.
Get in touch to book your place.
01538 703568 07791627034 churnetvalleydogs@gmail.com
"Train your dog for life"
Appointments for behaviour modification and advice being taken now. Realistic prices so you can help your dog to live a good life. Click the link below for details.
http://https://www.churnetvalleydogtraining.co.uk/Dog-Behavior-Consultations/I40.htm
'Using kind, positive methods of training for your dog'
Specializing in Pet Dog Obedience Training and Behaviour Modification.
"All Breeds Welcome"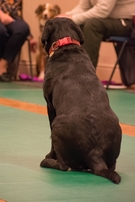 'Dogs displaying aggressive behaviour in class, excessive barking or showing signs of not being able to cope in a class will be removed. This is for the safety and well being of the dog, the owner and the class. One to one sessions to help the dog and owner will offered in these case.
Phone Karen - 01538 703568 between 10am - 4pm, 6.30 pm - 8 pm. Monday too Friday Or email me: churnetvalleydogs@gmail.com
See customer reviews in the products section.
Tracking class are held through the summer months.

Please speak to me before paying for a course, to check for available places and which course is suitable for you. No refunds at short notice up to a week before the course starts or when the course has started unless I can find someone to take your place.
Scroll to the bottom of this page to find more shops where you can pay for courses, full payment secures your place.
01538 703568
Karen Landon
KCAI (cd)
IABTC Pet Dog Training Approved Instructor
IABTC Puppy Parties and Puppy Training certificate
Diploma in Canine Behaviour and Psychology
ADipCBM
IABTC C&T4
Selected Items