About us at Churnet Valley Dog Training, Staffordshire.
My name is Karen Landon KCAI (cd), Adip cbm, IABTC/Inst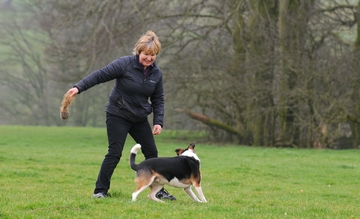 I am qualified as a Kennel Club Accredited Instructor in Companion Dog Training.

This means I have been assessed against a high standard by the Kennel Club that means I am able to provide a high standard of service in dog training. I abide by a code of conduct and only suitable methods of training which are motivational, kind, fair and always with the dogs welfare in mind.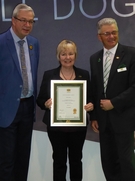 I am a IABTC approved Instructor. I attended a five day Instructor course of training and assessment. Plus a theory project at home.

Churnet valley dog training
was established in 2008, when my friend Elaine retired from dog training she asked if I would like to take over from her. I jumped at the chance of running my own classes and Churnet Valley dog training was born.

I've always had a dog in my life, they know so much about us and give us so much, I believe we such take the time to learn about them, how to communicate with them, learn about their body language, what makes them happy, what upsets them, what they need. Once you understand the dog that knowledge will do so much for the relationship between you and your dog.

I enjoy going to fun dog shows with my own dog, I am not very competitive but if there is a fun obedience class I will enter it.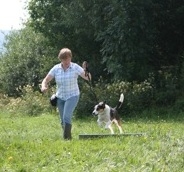 I love to organize fun dog shows for everyone to come along and have a lovely day out with their dog.

I have a Compass education diploma in Canine Behaviour and Psychology achieving a distinction.

I have a Advanced Diploma in canine behavioural management.

I have passed a behaviour modification practical course at the IABTC with a distinction.

I have attended a course and have a certificate from the Derbyshire Canine Center on the subject of instructing dog owners in the positive reinforcement and behavioural method of training.
I have attended course's and have certificates on:


working trails CD
How to get the best from your gun dog
Tracking and nose work for fun
Canine first aid
Basic Agility for Instructors at the International Animal Behavior Center
Canine nose-work workshop including tracking, searching and scent discrimination.
Treibball.
IABTC clicker and target training level 4. Meaning I am qualified to teach Clicker and Target training.
IABTC Puppy training
IABTC aggression in dogs
IABTC reactivity in dogs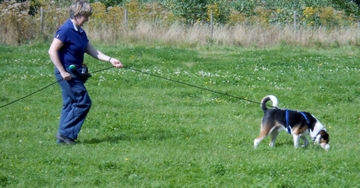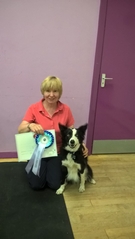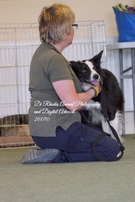 I have passed a Kennel Club good Citizen Dog Scheme examiner Assessment Course to act as examiner for the Silver level.


These certificates and experience mean I have good knowledge of how dogs learn, how to communicate with a dog, and the best way to train them.
I am constantly studying and attending courses to keep up my education so I can do the very best for my clients.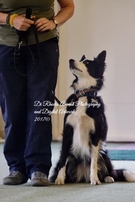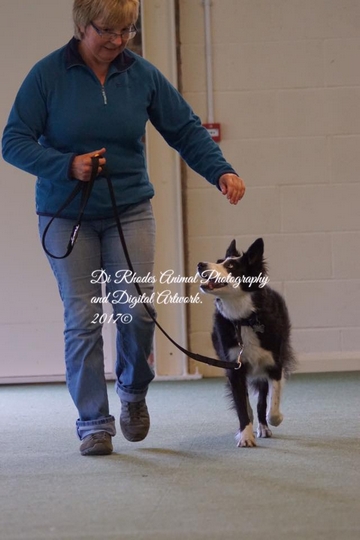 I can show you lots of fun and interesting activities to do with dog, for example how to get your dog to find things for you, how to track with your dog, how to get your dog to retrieve and other things you and your dog will enjoy.

It's a lovely job and very rewarding especially when I see smiley faces and wagging tails.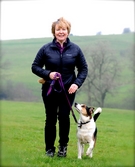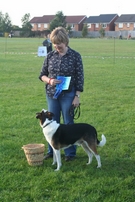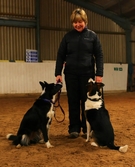 I specialize in pet dog training but my real passion is behavior modification. I love to work with people who have problems with their dog. I do this with empathy and patience. I have a recently taken on a rescue dog who has many problems and am working though them with her. My experience with training classes means I have seen 100's of different dogs who all have their individual traits and training challenges. This also gives the practical experience me to help people to overcome and improve their problems with their dogs, as well as my formal qualification.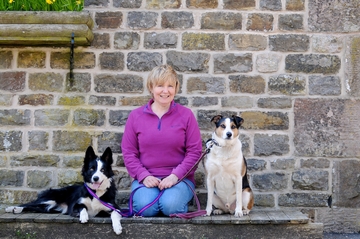 I travel around Staffordshire and Derbyshire to help people to train their dogs on a one to one basis.

Find us on facebook


http://www.facebook.com/home.php?sk=group_128192620591685&ap=1