HOME >> Basic Training and Behaviour
Classes at Kingsley Village Hall





[check ratings]
Please speak to me before buying this course.

"When you pay by bacs it is a personal account in my name Karen Landon"

No barky dogs or dogs who are not comfortable with other dogs.
At Kingsley village hall.
Saturday mornings and Wednesday evenings
Kennel club good citizen awards for you to work towards included.
In this class we teach our dogs to...
pay attention to us
Walk nicely on a loose lead
To come when called
To come when called when there are distractions
To meet and greet without jumping up
To get 'off" when told
To leave items
To drop items
To stay in one place
To search and find a toy and other play.
To be handled and groomed
To meet another dog correctly
To calmly walk past other dogs
To go through a gate or doorway nicely
We talk about a dog's needs, food, exercise, the importance of mental stimulation, preventing common behavioural problems and more.
Payment must be made in advance, no refunds unless I can fill your space.
Add a one to one in your own home or at a venue to suit you for £40.00. There maybe an extra change for travel and venue hire. Get in touch with me to book.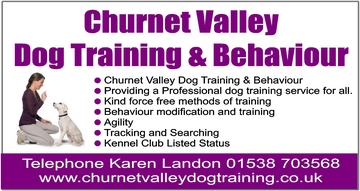 General service feedback from our customers who bought this item
[3.5 = Satisfactory]