Flexible training to suit your needs.
Flexible training courses and one to ones combined to suit your needs.
Book a training course and add a one to one for added benefit. You can transfer you training to you home or an outdoor environment with your trainer there for instruction and guidance. You might want extra help with your dog when visitors come to the house or you might want me to accompany you on a walk or anything else you want to do away from class.
Or you might want to do something different like teaching your dog to find an article or a scent, or clicker training in your one to one. I can even set up a small agilty course in a garden.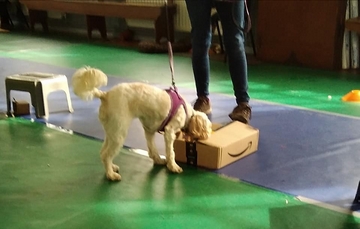 You can take it before or during a course at a date and time to be arranged. The date and time can be changed but needs to be taken before your course ends.
The location is at the clients home for one to ones, and we can hire a hall or freedom field if required.

Eight week puppy course and one to one for £120.
Eight week adult training course £110.

Four one to one training sessions £140

Four sessions by video £80.

Each one to one and video session is for one hour.

Extra costs maybe added for traveling and venue hire.

You might like to mix it up a bit, let me know and Iíll work out a price for you.