An Introduction to Canine Behaviour
At
Butterton Village Hall, Wetton Road, Butterton ST13 7ST
http://buttertonmoorlands.co.uk/village-hall/
Sunday 3rd of April 2022
Doors open at 9.30 am tea and coffee for those who want it. 10am start finish at around 4.30pm.
This seminar is ideal for pet dog owners to learn more about why dogs do what they do. It's ideal for dog training instructors, dog walkers, dog boarders and anyone working with dogs to learn or top up their knowledge.
Attendance certificates will be given out for those who need evidence of cpd.
A whistle stop tour around Canine Behaviour by Angela White Angela White KCAI (Fellow) CDA , ObA , BehA 'The instructor's instructor', is founder and principal lecturer of IABTC. She is a highly experienced handler, instructor, behaviourist, lecturer, judge, assessor and author of numerous qualifications, courses, books and articles on dog training and behaviour. She has KCAI accreditation at the advanced level in Behavioural Training, Companion Dog Training, Competitive Obedience and was the first (and currently the only) person to be awarded Fellowship of KCAI."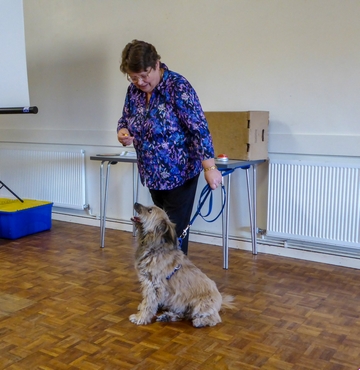 www.iabtc.co.uk
This seminar will introduce you to the following topics: How Dogs Learn, How the Dog's Mind Works, What's Going on in the Brain, How Dogs Perceive Their World, Behavioural Development Stages, Canine Drives, Triggers, Genetics and Breeding, Behavioural States, and talk about some common behaviour problems of companion dogs. Plus, time for questions and answers'

Tea, coffee and biscuits provided, bring your own lunch. There is no shop in the village.
9.30 for 10am start, we will finish at 4pm.
You can bring your dogs but they will have to remain in your car. There is a car park at the hall, and you can walk them during the breaks. Don't leave dogs in hot cars.
Price £35.00 a ticket or £40.00 on the door. Tickets for sale on the website shop.
20 Early bird tickets available for £25.00 each until the 25th of February.