Dog training tips
Name Response.
It is very important to teach your name to response to his or her name. You might have a young puppy that you have just chosen a name for, or a rescue dog who you want to change the name maybe his name has a bad association or you just don't like it. Your adult dog or adolescent dog might not be responding to his name as he used to.
You need it so you can get your dogs attention. Outside you might need your dog to look up from what's he's' doing so you can follow up with another que.
Teach your dog to have a positive association with his name.His name should mean good things, like treats, a game with you, dinner, a fuss or anything your dog likes.
Don't make his scared of his name by using it if you are cross, and don't use his name to get him to come and then do something he might not like; for example a bath or giving medication.
Saying the dogs name will get his attention so it will be easier to get your dog to do the next que. For example if you 'in your bed' your dog might not response because he isn't listening, he might be sniffing orplaying or barking at the door. If you say his name and he turns to look at you; you have his attention he knows you are talking to him. You can then say 'in your bed' and it is more likely your dog will do it.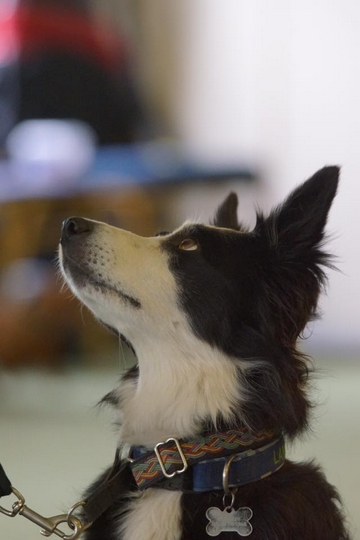 What to do:
Get some really good treats, very small so your dog won't choke and so you won't fill your dog up.
Whatever your dog likes best is high value. You can also use some that your dog likes but isn't as mad for. Chicken, liver (look for my liver cake recipe on the website)pilchard cake, ham, sausage, little bits of meat left over from your Sunday lunch etc all make good food rewards. Some dogs like bits of carrot, pasta, brown bread etc.
Have your dog on a lead to keep him with you.
Say your chosen name and give a treat even if if the dog doesn't look at you, remember you are training something your dog doesn't know yet, if you are using a clicker it's even better and the dog will learn it faster.
Repeat lots of times and then say the name and wait, if your dog responses you know he or she is getting the idea.
Get a friend to distract the dog so he isn't looking at you and then say the name.
Remember dogs learn by repetition so you need to practice,but don't do so many that the dog gets tired, as a guideline four or five repartitions to start with are enough, you can do some more later in the day.
Prove it by doing it in different ways and places, walkinground, sitting at a table, in the garden, on a walk etc.
If you get stuck or have any questions give me a call. 01538 703568
Look out for more training tips in the following weeks.
Happy training!
http://https://www.churnetvalleydogtraining.co.uk/Liver-Cake-recipe/I10.htm